So it was time to make a trip to Hong Kong once more, and I decided to go somewhere else for a change. Lamma Island did cross my mind again, but really it is quite out of the way for a day trip. So I decided to try a double-destination package of Sha Tin and Sai Kung. Sha Tin is easily reachable by HK MTR, but Sai Kung is an additional one-hour bus journey away from Shat Tin. The plan was to cover the Ten Thousand Buddhas Monastery and Hong Kong Heritage Museum at Sha Tin, followed by a nice seafood dinner at coastal Sai Kung.
The journey to Sha Tin was smooth, but when I reached there, the place was thronged with people. Turns out that it's the Qing Ming weekend, and Sha Tin has several ancestral halls and temples, so the human traffic flow was incredibly slow around the Sha Tin MTR station. In fact, it was so crowded that I missed the sign to the Ten Thousand Buddhas Monastery by barely 10m, and walked a huge round trying to find the entrance. The monastery is at the top of a hill, so I actually went up and down several paths asking for directions till I finally got back to where I was near the start.
So, are there really ten thousand buddha statues in the monastery? Well, the steep and long path up to the monastery is lined with buddha statues, each one unique from the other in action, position, look, or dress. (Yes, I was trigger-happy, but no, I didn't take a photo of every one of them.) But those don't really make ten thousand despite seemingly unending during the tiring climb up. The name actually comes from one hall where there are (looks to me) thousands of small little buddha statues lining the high walls. Quite a sight indeed.
It was time for a quick bite after the buddha statue overdose, so I dropped by IKEA at the foot of the hill and bought 4 chicken mid-wings for HK$12 (S$2), 1 ice-cream cone for HK$2 (S$0.33), and 6 mini cream puffs for HK$10 (S$1.67). It was impossible to find even a single seat at the IKEA Restaurant, so after I walked around holding a tray for 10 min, I gave up and asked for a paper bag to put the chicken in. The other two items I bought thereafter at the IKEA Bistro, where I ate the chicken as well. The chicken mid-wings actually takes almost as good as the full wings in Singapore!
After meandering through a maze of a giant mall and its peripheral shopping centres (and the crowd), I finally got to the Hong Kong Heritage Museum. The standard of the museum is really quite high, given that the ticket is only HK$10 (S$1.67), and I ended up spending almost three hours inside. By the time I was done, it was quite late already, and I decided against making the trip to Sai Kung. Besides, how does one person alone eat a proper seafood dinner? (Sour grapes, I know!)
And so the hunt began for a decent dinner at Sha Tin, and I practically walked past all the 30-40 eating places in the New Town Plaza (actually I think there's New Town Plaza I, II and III all combined) without finding something suitable. The prices were high, and/or the cuisine inappropriate, so I gave up and headed to one of the peripheral malls, where I saw this noodle shop with lots of people queuing outside. Intrigued, I decided to try it out as well.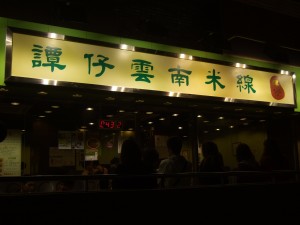 Being unable to decipher the Traditional Chinese words on the menu, and having extremely poor Cantonese vocabulary, I just pointed to a "set" that cost HK$45 (S$7.50). I mean, a main course or dish was going for HK$80 and above at the eateries in New Town Plaza, so how wrong can I go right? I even ordered a plate of century eggs for HK$15 (S$2.50) to go with the noodles.
When the food came, my eyeballs almost popped out. The bowl was huge, and much bigger than what others were eating individually! And given that I was sharing a table with 5 others, it was really quite a sight… And to make it more hilarious, two of the other 5 (they sat down later), ordered EXACTLY the same two things I did, and they shared the food!! Imagine Yong Tau Foo + Mixed Pork Parts + Mixed Chicken Parts + Vegetables + Noodles. I took a picture of the menu listing the things in the bowl, so if anyone feels like deciphering it for me, please do so.
The other 3 at the table were whispering to one another, I'm sure they were making bets if I could finish my food. Well, I did finish all but a bunch of noodles, so I think I'll be skipping breakfast tomorrow. 😀